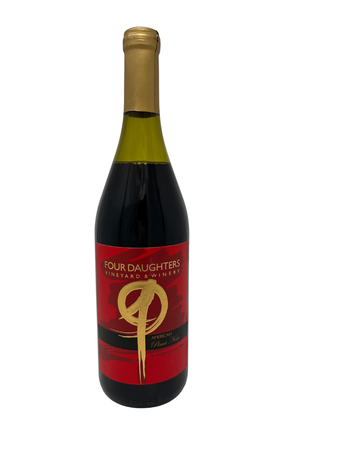 Pinot Noir (Top Seller!)
This Pinot Noir is our take on the classic. Finished sweet and slightly sparkling, this wine is light, fruity and full of excitement!
WINEMAKERS NOTES
Burgundy meets Minnesota; classic meets avant-garde. Bright notes of blackberry, cherry and plum. Enjoy this sweet wine chilled.
Product Reviews
Monique Ortega
(Aug 21, 2022 at 6:52 PM)
Some of girls went to the Vineyard for some wine tasting, with astonishment this red flavor brought me some joy (not a migraine)!
Had a glass for dinner and without hesitation I purchased a bottle.
As I'm finally relaxing home after a full day of service and a workout, I opened this Pinot Noir bottle (cork opener broke during the process but no worries it's out completely) enjoying the flavor once again.
Unfortunately, we are in KC so to far to visit now but ordering 2 bottles online asap!
Thank you 4 Daughters!