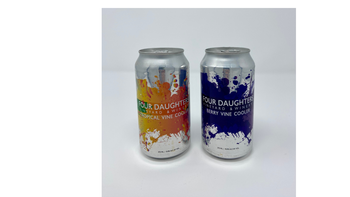 Vine Coolers- Combo Pack
Vine Coolers take us back to the glory days of wine coolers, when they were made from actual wine. In this 4 pack, you will enjoy the best of both worlds; 2 Berry & 2 Tropical!
Our Berry flavor is made from Brianna grapes blended with raspberry, strawberry, and black currant. In our Tropical flavor, you should be able to taste tangerine, cherry, and pineapple, with a hint of sunshine, sandy beaches, and palm trees!
WINEMAKER'S NOTES
Brianna was an obvious choice for a base wine. It is naturally fruity and lower alcohol wine though it still clocks in as 10% alc. It's hard to pace yourself! Vine Coolers can be consumed straight, over ice, or even as a sangria. Friendly reminder, 4 Cans is equivalent to 2 bottles of wine!